The Gallery Collection showcases exclusive designs by Reda Amalou.
These collectible design pieces are crafted by some of the best artisans around the world
and are edited as a series of 8 and 4 artist's proofs.
Each piece is signed, and numbered, and delivered with a certificate of authenticity.
We can offer you customizations for certain pieces of the gallery collection, as well as custom-made pieces, contact us
This cabinet is characterized by its precious cloisonné enamel. The art of cloisonné, once restricted to imperial use, is here uniquely adapted to the tiles. Reda Amalou celebrates ancient artisanship to create a piece of furniture, mixing ancestral know-how with a contemporary geometric design.
Cloisonné enamel decor. 2 doors.
Walnut legs and structure.
65.8 x 34.8 x H80 cm
Limited edition, numbered and signed
Serie of 8ex and 4 A.P.
What if we talked about luck ? A wink to Chinese fortune cookies whispering predictions, the sculpture intrigues, question, arouse curiosity. It claims secret, make mystery a success. The two marble pieces keep safe a bronze plaque on which is engraved a message only explainable by
his author. A sanctuary to keep safe your most precious thoughts. This creation belongs to the gallery. A limited piece, signed and numbered.
Marble with bronze insert.
30 x 10 x H70 cm.
Limited edition, numbered and signed
Serie of 8ex and 4 A.P.
The doors of this wardrobe are dressed with a straw marquetry with a radiant pattern that gives it a subtle shimmering effect. This
exceptional achievement is a knowledge of French tradition dating back to the 17 th century, commissioned today in the workshops of Lison de Caunes in Paris.
Doors with a traditional work of straw marquetry. Bronze frame and walnut structure.
130 x 45 x H220 cm
Limited edition, numbered and signed
Serie of 4ex.
This elegant console plays on the proportions between the extremely thin bronze legs and the heavy eggshell top. Reda Amalou purposefully chose a traditional craft from Asia with the eggshell lacquer in amber shades.
Bronze base, top covered with eggshells.
160 x 35 x H80 cm
Limited edition, numbered and signed
Serie of 8ex and 4 A.P.
Unique. No other word can define the incredible strength emanating from thisPANAMA screen or sculpture. Reda Amalou reincarnates wood drowned by the Lac Gatun since a hundred years. It is a living substance, majestic, standing through each one of his flap. Pieces of trees, discovered by Panamanian natives, gained in magnificence through time and unexpected weather, carrying the traces of their journey and asserting their authentic uniqueness. Nature appears in the purest perfection
Walnut Zapatero.
180 x H176 cm
Unique piece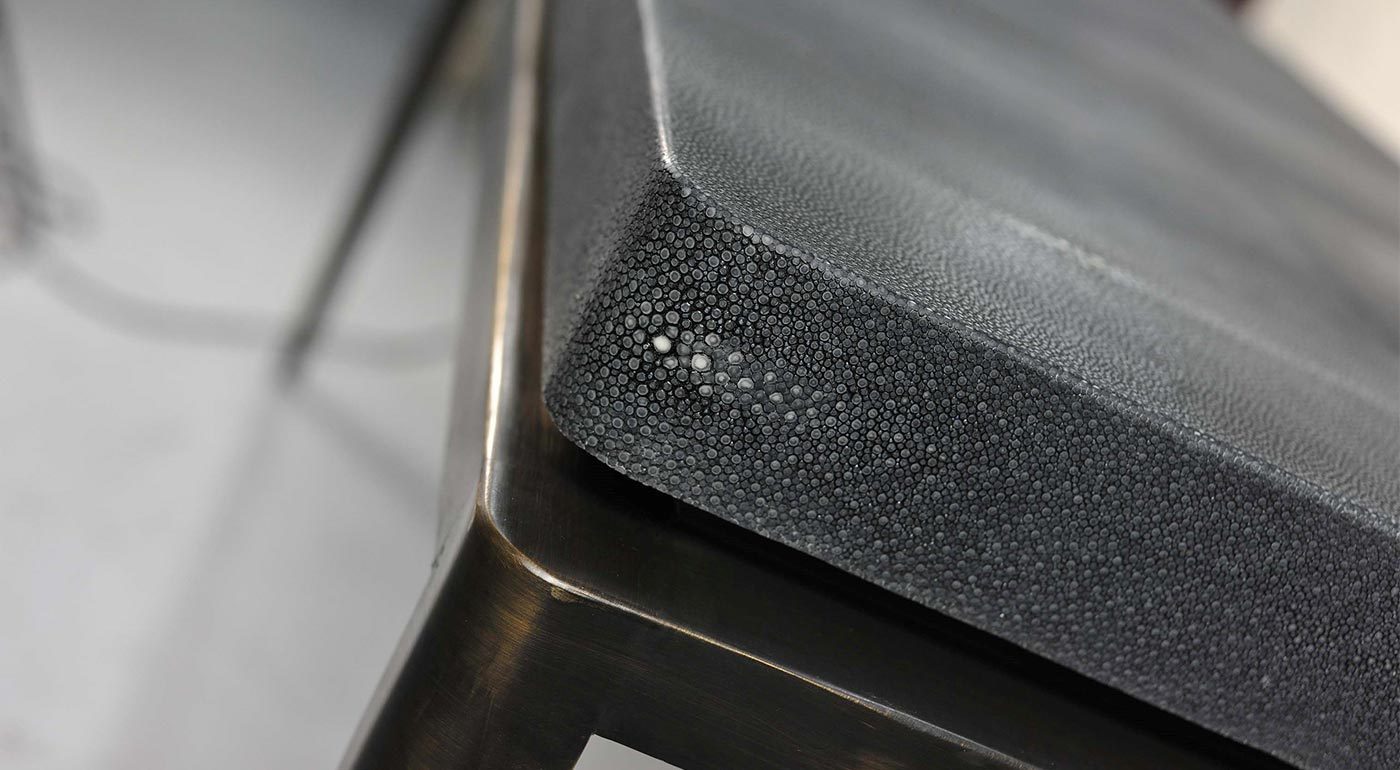 Part of the Gallery Collection, the Edha writing desk is a unique design element.
It is designed as a tribute to French artisan know-how with a shagreen-sheathed top and bronze leg that make up for an exceptional piece of furniture. With this desk, the designer plays subtly with the proportions and finds the perfect balance to give it its natural stature.
Desk with hammered bronze legs and drawer handle. The top is upholstered in shagreen.
2 Drawers.
Dim 160 x 61x HT 75cm.
Edition 2019. Price: contact us
More than a line, a wave. The flexibility of a movement we choose to merge with, the elegance of simplicity. Kimani is a tribute to harmony, combining paradoxes, gathering opposites. The sturdiness of bronze seems to blend with the heat of leather. Comfort becomes an evidence, sobriety, an another definition of nobility. Each piece is limited, signed and numbered, a way to make sure each of them is unique.
Bronze structure and leather cushion.
180 x 45 x H55 cm
Limited edition, numbered and signed
Serie of 8ex and 4 A.P.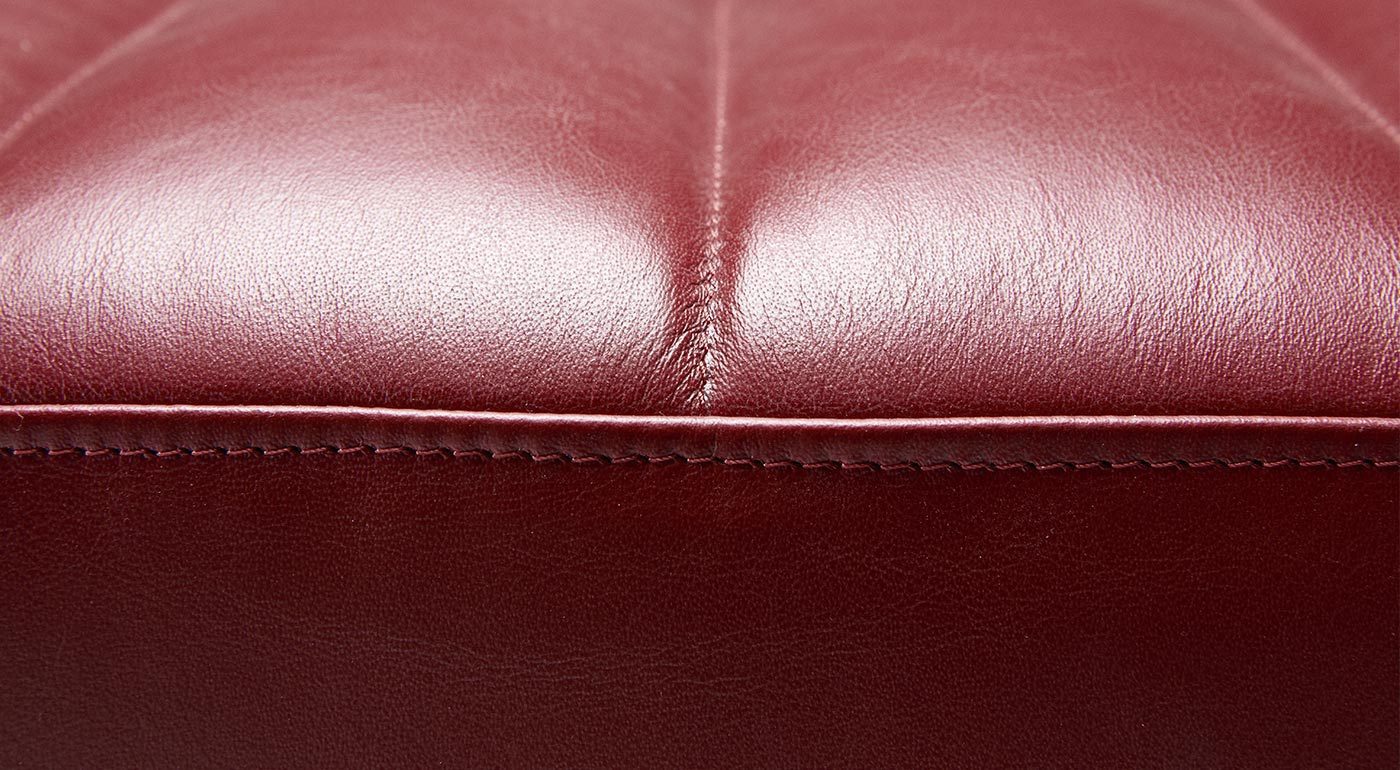 The Kimani bench is a mix between simplicity and modernism. This piece defines Reda Amalou's work by itself : a pure line, exceptional materials and the attention to detail all come together to make a harmonious and balanced piece. Designed to be with or without a bolster, this bronze and stitched leather bench will give any interior a sense of elegance.
Red leather, saddle stitch, 2 cushions included.
Bronze structure. Red leather seat.
160cm x 48cm x 45 cm.
Edition 2018. Price: contact us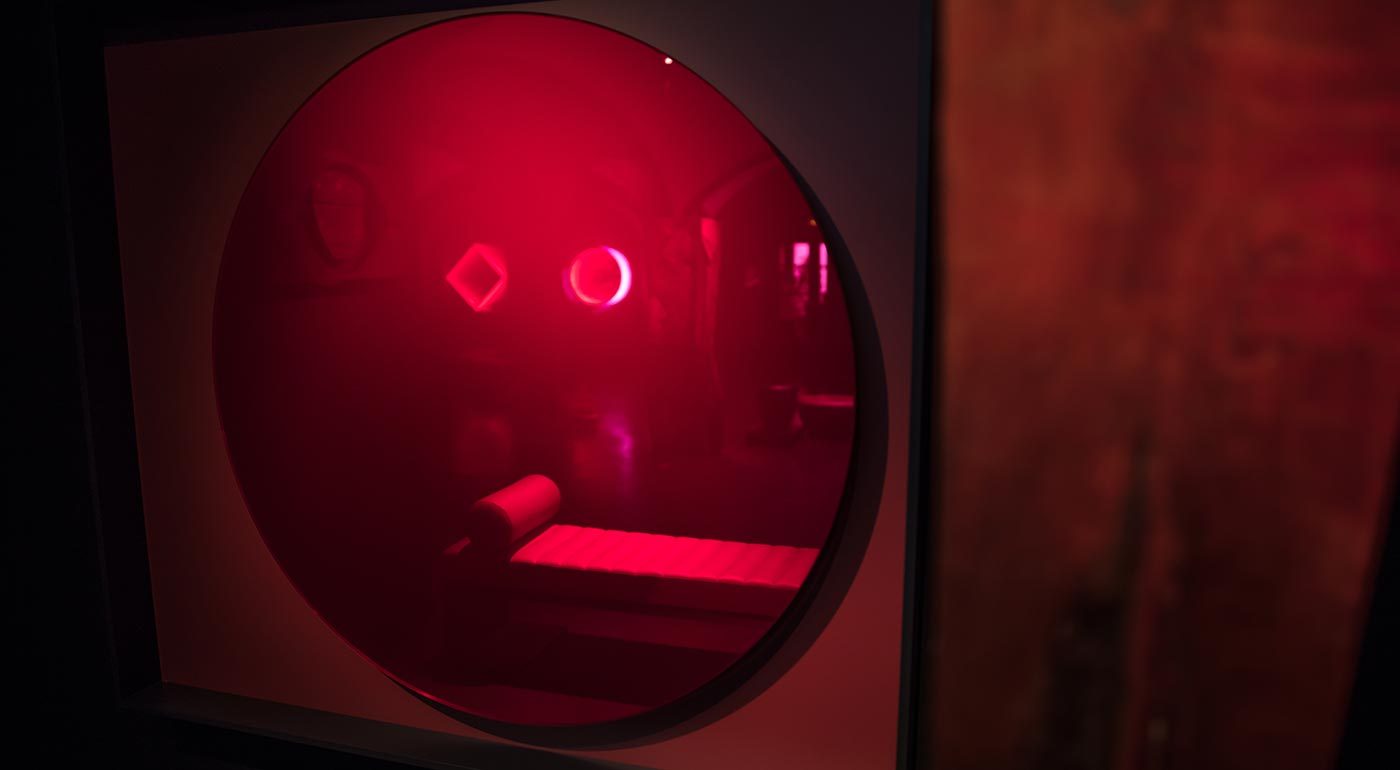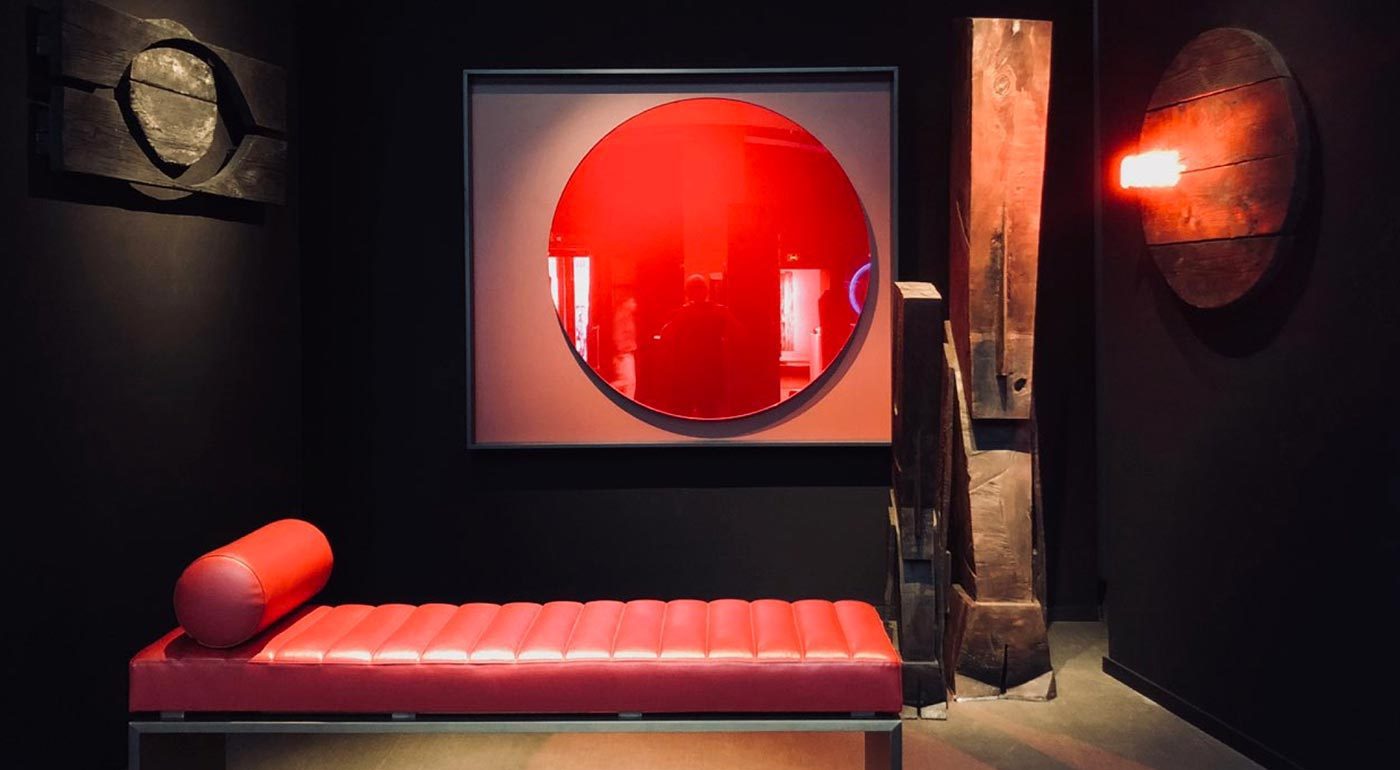 The Moon Mirror is a color mirror disc, suspended in a frame. This defines the space of the object that is no longer constrained. Wood, lacquer and glass are superimposed to create an object on the border between art and design, both a plastic work and a design object, creating an ethereal reflection of reality through color.
Reda Amalou imagined a mirror in opposition to the classical mirror that is traditionally defined by its frame. A piece combining simplicity and strength. The square round and the color oppose, they bring a singular, poetic character, and reinforce the visual impact of the suspended mirror.
Wooden frame. Red mirror.
160 x 12 x H140 cm.
Edition 2018. Price: contact us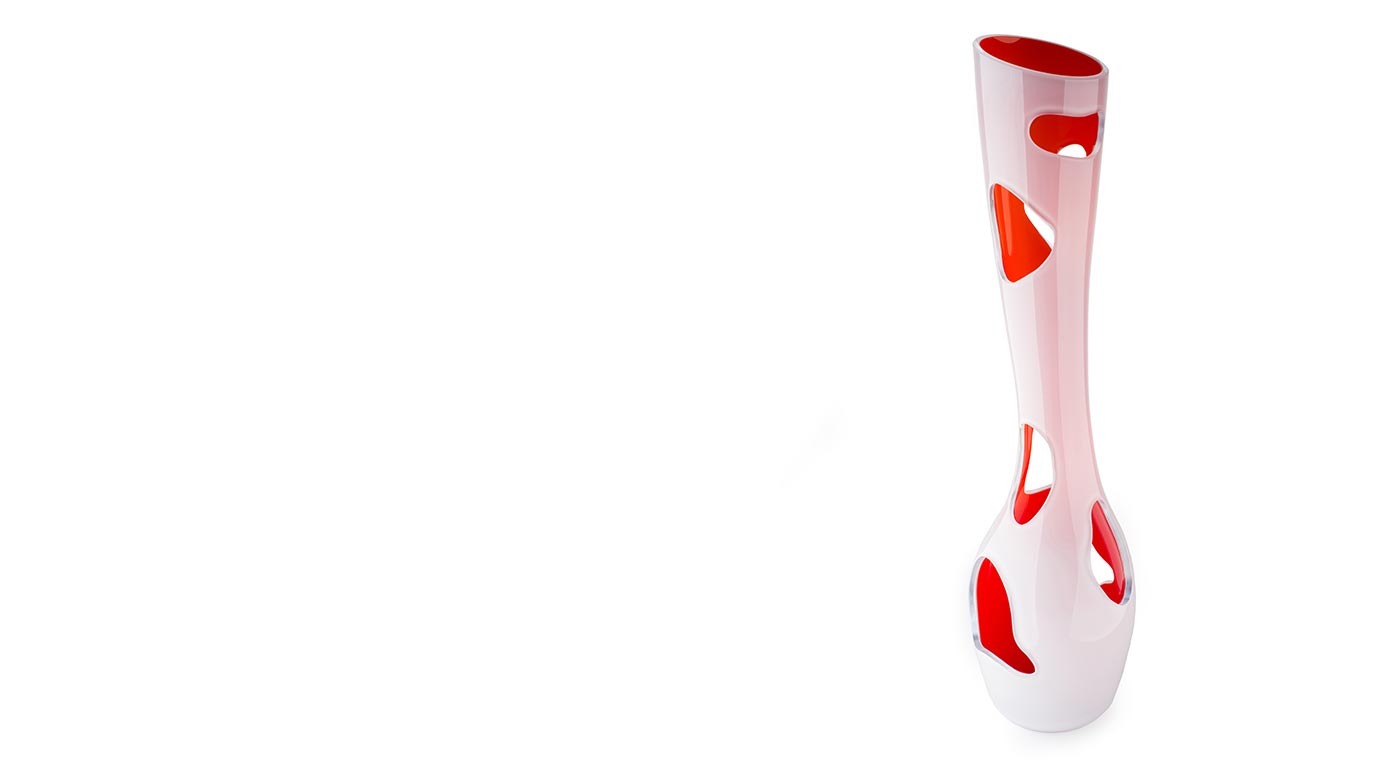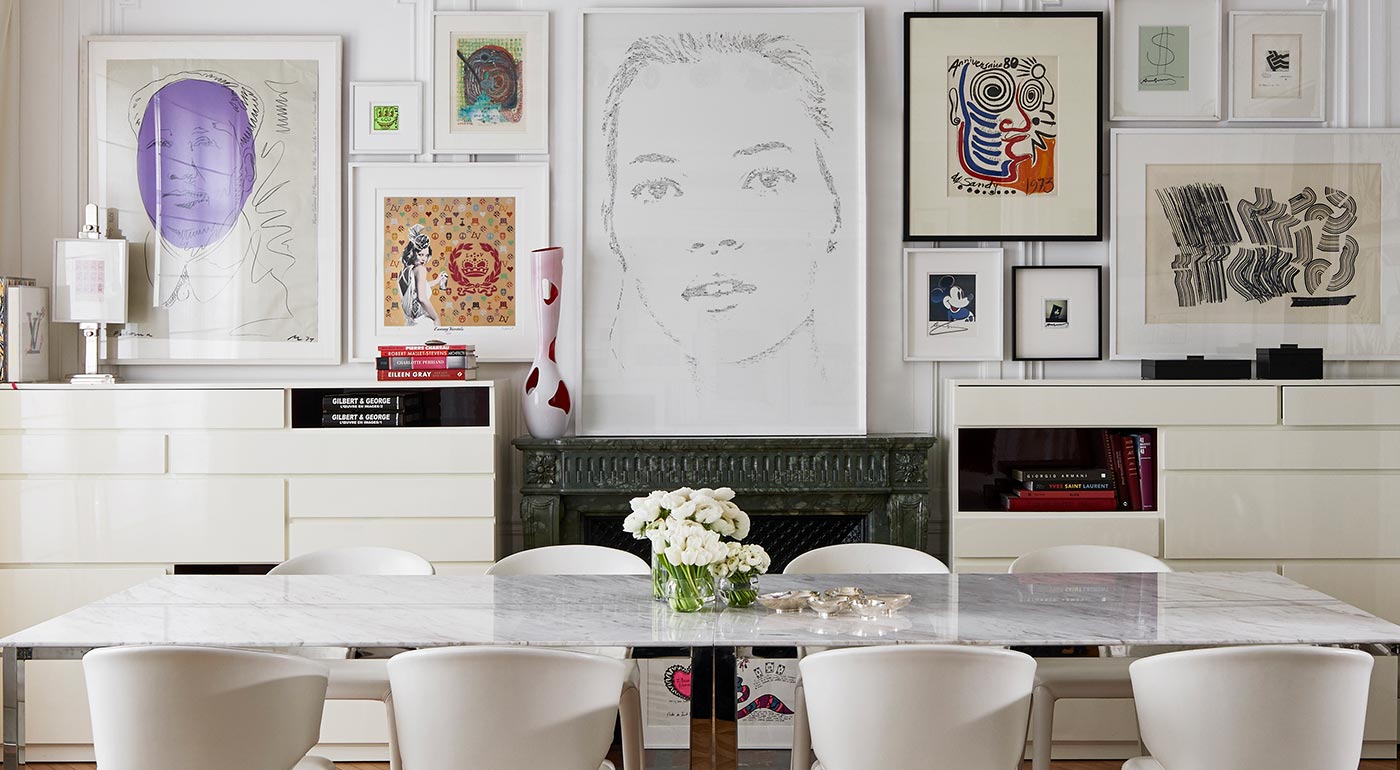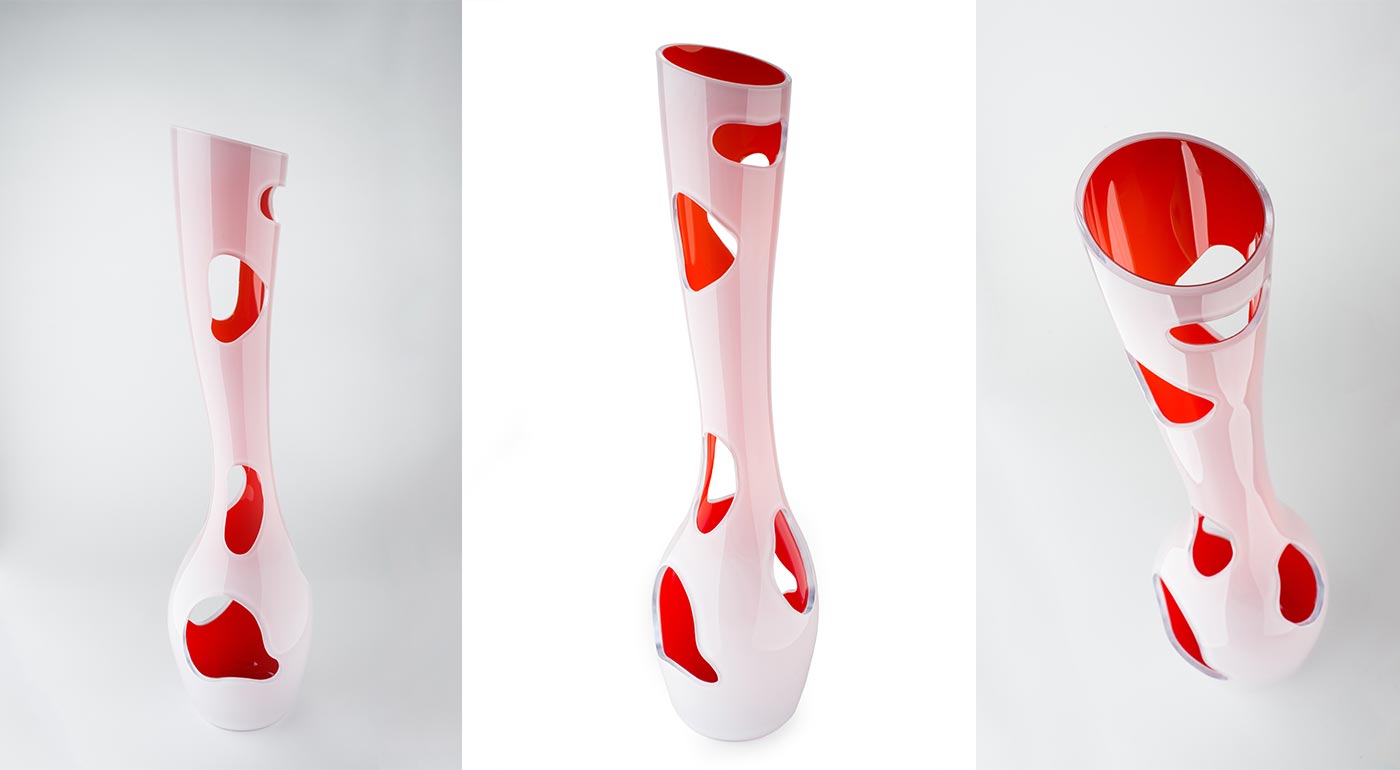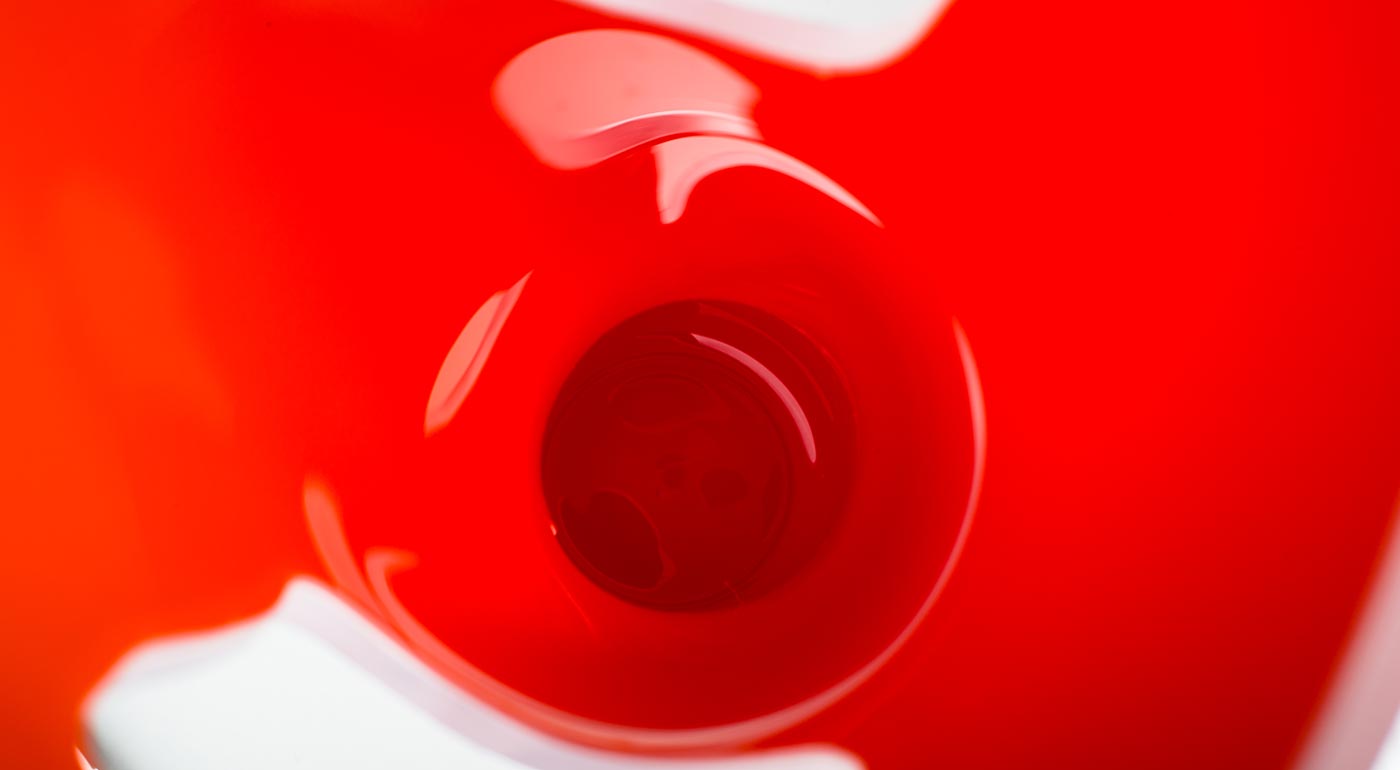 THIS IS NOT A VASE is a collector item, it is more a sculpture than a functional object. Designed for the Maison Veronese, it is made in Murano glass, Its shape, sensual and pure, unwinds in glass curves. The white and opaque glass on the outside hides the heart of the object. The cut outs in the glass let the light in, and the deep venetian red inside is revealed to the viewer. The white and the red are two opposites of the same object.
Murano Glass. This product is a hand-manufactured object. Each piece is unique. It may vary slightly in colour, finish and shape from one item to another. This is the guarantee of a true hand made object. Height : 65 cm – 42.2 in – Length : 16 cm – 10.4 in. Price: contact us
It is an object of desire. A compelling attraction driving us to something divine, royal, sacred. A piece you praise more than you look at. A symbolic fire, a source of covetousness, highlighting our interiors and hypnotizing us. The polished bronzed is covered by golden leafs in the soft intimacy of a Parisian atelier, and allow a quiet unique light. This creation belongs to the gallery collection. Limited piece, signed and numbered.
Bronze and Gold leaves 22 carats , satin varnish.
2 versions:
D 12 x H45cm
D 16 x H65 cm
Limited edition, numbered and signed
Serie of 8ex and 4 A.P
Set of 3 decorative plates in hammered bronze and gold leaf plated 22,5 cts with a satin varnish.
150x340mm
110x280mm
100x240mm
Price: contact us